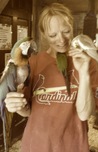 In March of 2011 the journey began with the purchase of the old Wittenburg Place in Owensville, Missouri. The dream of turning a 90 year old barn into a landmark and creating a farm were visitors could interact and learn more about farm animals was just the beginning. The farm flourished and grew larger and faster than we imagined, the Pig Collection outgrew the barn and the 4-legged residents outgrew the land...Then September 13, 2015, God tapped me on the shoulder and said "we need a bigger place."
I thought, "oh no, here we go again", but when God speaks I've learned to listen.
I agreed that I would look around but if I were to move, I would need these things, at least 15 acres, with an old 2-story, 2-bath, rock house located far from the highway. I would need a large building for the gift shop, a chicken house, a livestock barn, a pig barn and a building to set up a workshop. I also wanted an old silo that I could rehab for sleeping quarters for visiting groups.
Of course I needed it at a price I could afford. That night I told my friends what I was looking for and added, that i realized it would probably take a year or so to find this perfect property. Well, God does not mess around! When he says it's needed, it's delivered!
That night, through the hands of Holly Vaughn he sent me a listing for the perfect farm. Monday I walked around the property. Tuesday I viewed it with the realtor. Tuesday I also met with loan officer. Wednesday, the loan officers visited the "Where Pigs Fly Farm" and I Submitted a bid. Thursday I Received loan approval. The Friday the seller accepted by bid! On October 20th at 2:30pm I closed on the the property.
We are now focused more than ever to make the "Where Pigs Fly Farm & Pigs Aloft Museum" an organization that will stand out in America as the only Pig Museum, an incredible animal rescue and one of the Best "Petting Zoos", a great place for children and adults to visit!

---
As CEO of the Where Pigs Fly Farm & Pigs Aloft Museum my goals are to:
• Produce the finest Pig Museum in the world, not just America.
• Produce the most entertaining and interactive animal rescue in America.
• Provide the public with low cost veterinary care and low cost spaying and neutering.
• Use volunteers time effectively.
• Offer opportunities for volunteers to increase their leadership with the organization.
• Provide appropriate acknowledgement and recognition to those who help build the dream.


We are looking for volunteers
If you love working with animals, enjoy working hard and don't mind getting a little dirty please let us know. We are in need of volunteers to assist with the following:
• Care of the Animals
• Property Maintenance
• Database input for Musuem
• Grant Writing
• Research and development
• Marketing

Can't get out to the farm, but know how to use a computer? Helping us organize the photos of our Pig Collection would be the perfect job for you! This can be done from your home.

Please call or text Cindy for details on how you can help us make The Where Pigs Fly Farm and Pigs Aloft Museum an incredible place for all two legged and four legged critters.
314.241.3488


Would you like to head up a Committee?
We are looking for individuals who can dedicate time with these projects.

Visitation. Improving visitation through contact of schools and other organizations
Pig Collection. Contacting "Pig based" groups and organizations who may donate items to the Museum. Ex: we contacted the agent for the writer of "Babe". They will be sending us a photo of the Author and various other items.
Grant Writing. There are many grants out there, we need to take the time to apply. It's a time consuming process, but I feel that it would be well worth the effort.
Pig Database Management. We have started the database for the pig collection. Need someone to take over the completion and maintenance.
Animal Health. Making sure each animal is included in a database. Kept current with shots, adoptions, etc.



We are looking for collectible PIGS!
If you have one pig or an entire collection we would love to hear from you!
We promise your pigs will be treated with loving care. Our goal is to maintain the largest Pig Collection in the world and share them with as many people as possible. We feel it would have been what Ross Honsa would have wanted. May his dream live on!
Please call or text Cindy 314.241.3488


We can also use monetary donations.
Many animals have found a safe and loving home at the Where Pigs Fly Farm. With the help of our Dr. Diana Krenning we give each of our "babies" the best possible care. Making it possible for them to live happy, healthy lives.

If you would like to help give second chances to abused, neglected or discarded animals please make a secure donation online.

Donations help us feed, house and care for the animals in addition to helping us educate others on doing the same.